About this channel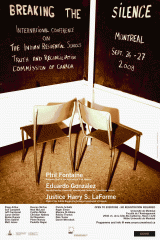 On September 26 and 27, 2008 hundreds of survivors, their relatives, academics, politicians, and human rights advocates participated in "Breaking the Silence: an International Conference on the 'Indian' Residential School Commission of Canada", held at the University of Montreal, Quebec.
This collection of clips and audio are from this first conference held just before the government appointed, Justice Harry LaForme, resigned as Chair of Canada's court-ordered Truth and Reconciliation Commission. The commission has 5 years to hold cross-country hearings with survivors and produce a public record of these testimonies of the violence, abuses, disappearances and killings that took place throughout the 150 years of institutional genocide in Canada.
More Information and all the Audio is available at the University of Montreal website.
The governmental Truth and Reconciliation Commission in Canada is at http://www.trc-cvr.ca/indexen.html
LESS INFO