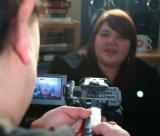 Increasing Youth Capacity to Promote Mental Health Issues
One of the main objectives of the Inuusivut project is to increase community capacity to promote mental health.
In an effort to meet this objective, the Inuusivut project team and partners are accessing multi-media equipment (digital cameras, video cameras, etc.) and making them available to local groups in Inuit communities across Canada for use in project activities.
Multi-Media & Youth Leadership Training
Besides having access to equipment, many youth require training to learn how to use the equipment and work with multi-media. The Inuusivut Project provides training to youth in Inuit communities across Canada in photography, video production and youth leadership.
If you are interested in receiving multi-media and youth leadership training through the Inuusivut Project, please contact our Project Coordinator.
Once you have indicated your interest in receiving training, we will work with you to:
Identify specific training and equipment needs
Design a workshop that suits your needs
Raise funds (towards airfare and other expenses)
Advertise and recruit youth Coordinate and deliver workshop
Produce health-related videos/posters/newsletters, etc. that you and the youth participants design
Establish a Youth Media Team in your community
Workshops Delivered
2007 Ajjikamra -Kitikmeot Inuit Association (click here to see some pics)
Rankin Inlet Youth Leadership and Multi-Media Training
Qamani'tuaq Multi-Media Training, Anti-Sniffing Project
Omingmaktok/Hiraarvik, Regional Elder and Youth Camp
Pangnirtung Youth Drama and Multi-Media Workshops, August 29-September 4, 2008
Kinngait Youth Leadership and Multi-Media Workshops, September 29-October 3, 2008
Upcoming WorkSHOPS
Dialogue For Life, Montreal: November 29-December1, 2008
Nunatsiavut, ToBeDetermined
Inuvialuit, ToBeDetermined