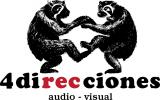 LOCATION:
Bogotá - Colombia
4Direcciones (4Directions) is a company devoted to high-quality audiovisual production focused in cultural and environmental subjects. Its creators and directors are Diana Rico and Richard Decaillet, a solid duo of creative audiovisual artists with a long experience in the making of TV programs, documentaries, videoclips and videoart. We have co-directed the 10 chapter series on Colombian Art "Plástica, Arte Contemporáneo en Colombia" (Contemporary Art in Colombia) that have aired in Channel 22 in Mexico and in Canal Encuentro in Argentina. In 2008 "Lado B de la Historia" (History's B sides) 12 episodes on Colombian History, aired in Señal Colombia nationwide and was selected for the INPUT conference in Warsow 2009 as the best cultural series in the country. Our current catalogue includes music documentaries, environmental TV series, video-clips and animated TV series for children. The projects undertaken have represented a great challenge in terms of research and realization because of the novel academic and experimental nature of their contents and their contributions to technological advances in that field
Uploads by
richard@4direcciones.tv

Hee Yaia Keti Oka
Este video hace parte de la propuesta para postular "El Conocimiento de los Jaguares del Yuruparí" del Rio Pirá Paraná de Colombia como Patrimonio Inmaterial de la Humanidad de la UNESCO...


Guardianes de la Libertad
Los Guardianes de la Libertad es un proyecto documental audiovisual que presenta en la voz de líderes, brujos, curanderos y hombres y mujeres de medicina de las comunidades mas tradicionales del...

4direcciones audio-visual
Diana Rico y Richard Decaillet son artistas plásticos y realizadores. Desde el 2006 trabajan juntos como 4direcciones audio-visual haciendo películas, exposiciones y publicaciones. El propósito de...