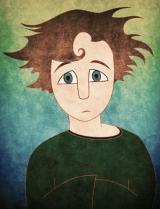 LOCATION:
Komsomolsk-on-Amur
I am a volunteer of the Association of Indigenous Peoples of the North and the Amur region in the city of Komsomolsk-na-Amur. Working on a project to create a film about the culture and spiritual heritage of the indigenous peoples of the Amur River (Nanai, Ulchi, Evenki, Orochi, and others). Also, doing portraits of indigenous people, fond of playing the flute, drawing and poetry. My personal website www.stepanporto.com
Uploads by
Stepan Porto

Kekuken (a little flower)
Nanai vision of nature and art in three meditative minutes. Here you can enjoy an atmosphere of nanai nature and beauty worship.


The Day of Nai
Nanai Culture Day "Ulika" in the library of Ostrovsky in Komsosmolsk-on-Amur.Nanai is native people of the Amur basin on the Far East of Russia. The word "Na" translated as 'earth...


Nanai channel
In Russia the Nanais (self name Nani) live on the Sea of Okhotsk, on the Amur River, downstream from Khabarovsk, on both sides of Komsomolsk-on-Amur, as well as on the banks of the Ussuri and the...