Acerca de este canal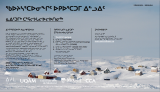 The Project
In the fall of 2008, Architecture and Design students from across Quebec and Ontario worked on designs related to housing in the North. They were looking for guidance and insight from people in Northern Communities (Nunavik and Nunavut). A competion was announced to make a 1-3 min video that could speak about the house where you live, about the house where you would want to live, or about the houses and spaces where your ancestors once lived.
250$ were awarded to the winner. Contest ended on October 25th, 2008.
Wath the winner video of the competion 'Iqaluit Perspectives on Northern Housing' and the video that the students of the design competition made 'Crises du Logement dans le gran nord'.
MENOS