Scenes Through Snow-Goggles: Take One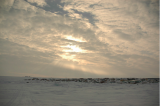 Scenes Through Snow-Goggles: Take One
by Nancy Wachowich
Tuesday, April 19, 2005
The idea of a blog
OK, so blogging is a brand new thing for me. I am a university professor at the University of Aberdeen in Scotland. I lecture in introductory anthropology and indigenous media. When I am not teaching, I try to write academic articles where I often end up writing tight, tortured prose. Academic writing is normally, for me, a painful process. Sometimes it takes me half an hour to squeak out a sentence. Sometimes I I edit it and edit and edit it. Sometimes those squeaked out sentences are so filled with jargon, that only people who read the same books as me can understand them. Often I have to erase them and start again.
Hector on ice
Today I can not erase. I have an hour to write a blog. One hour. I brought my baby boy with me, you see. He is six months old. His name is Hector and he is being babysat by for just an hour more before I have to go get him. I have been working in the Eastern Arctic (doing fieldwork as they say in anthropology) for fifteen years, but this is Hector's first time in the Arctic. He was born in Aberdeen last October and when we left the hospital, he was blasted with a gust of North Sea wind and the rain. Since he was born, he has become used to Scottish weather. He has become used to being manoeuvred in his stroller around Aberdonian streets. He has become used to being taken to nursery school and to the corner grocers. But this is his first time in the Arctic.
So as I left Hector this morning at the babysitter's house. Her name is Melinda and she a a sweet girl. She has spiky black hair, Maui Girl track pants and a very big smile. As I was crouching in the porch of her father's house this morning, dressing myself to get ready to travel out to the igloo palace-- it is freezing cold today, so getting dressed takes a long time-- I looked through the crack in the door. Melinda was cuddling him and speaking to him in Inuktitut baby-words. Inuit have a special intonation and vocabulary when they speak to babies. Hector was staring into her face. His first day in Igloolik, he looked befuddled. Not unhappy. Not uncomfortable. Just befuddled.
This look was one that I was familiar with over the three days since we left Aberdeen and I carted him through five planes, six airports, and passed him into the arms of flight attendants, fellow travellers, and family friends who we met on our journey here. Hector is a baby. He can not talk. And who knows how much he understands of the English, French, and now Inuktitut that is being spoken to him during this journey ? But I know this befuddled look that crossed his face.
Entering an igloo
Now, here is where I get to the point. It was Hector's experience of being carted between radically different worlds (Aberdeen, Heathrow, Montreal, Ottawa, Iqaluit, Igloolik) and the repositioning that it entailed for the poor wee fella that I was thinking about when I was entering the igloos at the snow palace this morning. The snow palace as they are calling it here, are seven connected igloos set up on the land a fifteen minutes snowmobile ride from town. S.F. Said has already described the snow palace in his blogs earlier last week. Hector is waiting for me to pick him up, so I won't get into it here. Suffice to say that they are really quite magnificent structures. Now, I don't know how many of the people reading this blog have ever entered an igloo, but it entails crouching down, often in layers of winter clothing and slippery winter boots, and sort of crawling through the door. If you are not used to it, if you did not grow up on the land, the crawl can be a bit like a stumble. Igloo doors are only a few feet high with wood or skins (seal or caribou) fashioned as doors. The light outside this time of year is extraordinarily bright, so upon entering the igloo you are immediately blinded. Your sun-glasses fog up. You fumble with the skin door that is spiked to the snow wall and struggle to find your footing on the ice-floor as your eyes strain to adjust to that whole new world inside the igloo. It is befuddling.
Different types of babies
entered three separate, interconnected igloos that first day on the set. The first one, and the brightest, was a snow-porch of sorts and inside on a snow bench to my right were three frozen walruses and a frozen caribou stacked neatly on top of each other. Food or props? I was not sure. Probably both.... Some duck-taped film tackle boxes for the film set were to my left. The two worlds (Inuit and film) meet. I crawled through a sealskin door at the far end of this igloo and into the ankles of Felix Lajeunesse and Ike Ungalaq. Felix is the camera assistant and Ike is the boom operator. Ike was keeping Felix company while Felix took care of the camera. The High Definition camera that they are using for JKR is more sensitive to the cold and humidity than the previous Sony cameras used by Isuma. Igloos are cold and humid. To keep the camera parts from freezing up, Felix must tend to the camera like he would a child.
So, while my baby was being cradled by Melinda and her sisters, Felix's baby was being cradled inside a large wooden box with a tarp blanket in the centre of that second igloo. Felix's baby is about the same size as my baby. Except the camera is twice Hector's weight and hard, black and shiny. Like Hector, the HD camera has a little zip -up padded jumper to keep it warm (the camera's is black and yellow while Hector's is red). Hector has baby sunglasses and the camera has a an N.D. light filter to control the amount of sunlight. The camera also has a microphone with a big furry sock on it. Felix goes out to the set each morning several hours before the filming starts to turn on the camera and warm it up. He spends hours each morning, keeping it cozy and happy and changing the batteries, one after the other, until the shoot starts.
But I digress...
Aua's snow-house
Crouching down on my knees I shimmied from that high-tech middle igloo through to the third igloo that was dressed for production that day. The light in this igloo was a warm yellow tone and much dimmer than that of the other two igloos. My eyes took awhile to adjust. Once they did I saw a snow-house interior much like the ones I had read about and seen photos of in the historical literature about Iglulingmiut dwellings. I have been reading those books for years, so this was really quite exciting for me. Inside there was a sleeping platform with caribou fur mattresses and bedding which took up the rear half of the igloo. Two of the actors, Igloolik elders Abraham Ulayuruluk and Leonie Qrunnut were inside. Leonie was tending the qulliit (seal-oil lamps) that warm the interior and Abraham was standing in the doorway chatting with her in Inuktitut. Blind and on my kneees, I crawled into the back of Abraham's caribou fur-clad legs when I entered. He exclaimed something in Inuktitut, moved out of the way, and returned to his chat. Abraham and Leonie were both wearing traditional skin clothing, their costumes for the movie. Upon entering a scene such as this, one sometimes has the inclination to imagine a journey back into the past. I would imagine that visits to castles and historic sites in more southerly regions inspire the same feeling?... What interrupted this journey for me was the presence of S.F. Said, wearing a red parka a similar colour as my own and sitting on a snow-bench a few feet from Leonie, drawing up a diagram in his notebook of the inside igloo. I sat down beside S.F., compared notes, chatted for awhile about the film set, about the Arctic, and about stuff in the U.K., another world away.
SF's presence in the igloo brought me back from my time travel. And , sitting at this computer in the Isuma building right now, time in the here and now has once again become central to my consciousness. This blog has taken me double the amount of time, and little Hector is sitting at Melinda's. My next ones will be shorter. Now, I have to go get the befuddled little fella and transport him into yet another space. To be continued...