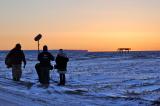 EMPLACEMENT:
Uqiagvik, Barrow, Alaska
Uncivilized Films is a film production and media training company based on the North Slope of Alaska. Creating documentaries and dramas since 2001, Uncivilized Films is committed to building local capacity and creating broadcast quality media that brings the voices and stories of Iñupiaq people to the world.
Contenus ajoutés par
Uncivilized Films

History of the Iñupiat: Nipaa Ilitqusipta, The Voice of Our Spirit, part1
History of the Iñupiat: The Voice of Our Spirit tells the story of how the Iñupiaq language, one of the oldest languages in the world, has survived despite 150 years of trauma including epidemics,...


The Duck In
History of the Iñupiat: The Duck-In is about US government attempts to regulate traditional hunting rights of the Iñupiat in 1961. This is the story of the first major conflict between the Federal...