Ikuma, carnet de tournage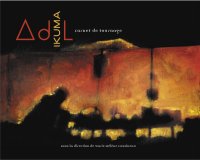 Arnait Video Productions, in collaboration with Mémoire d'encrier, published Ikuma, carnet de tournage. Texts and illustrations are inspired by the collaborative experience of filming Before Tomorrow in Puvirnituq with a team from Igloolik, Puvirnituq and Montreal. To know where to find the book, please consult the site of the editor, Memoire d'encrier.
Mp3 Audio Files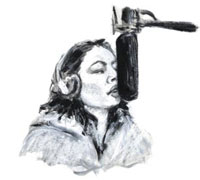 Download these audio files and hear stories and songs from Puvirnituq.
Audio Files:
Conversations
You can read the conversations between Arnait Video collective members and between actors and Sarah Beaulne from Puvirnituq recorded during the shooting of the film in 2006. The original interviews were conducted in Inuktitut and were then translated in English by Sarah Beaulne and Alacie Surusila. The English texts were edited by Laura McGough. The French translations are published in the book Ikuma.
Discussion between Sarah Beaulne and Peter-Henry Arnatsiaq
Discussion between Sarah Beaulne and Sarah Irqu

Discussion between Sarah Beaulne, Qalingo Tukalak and Elisapee Tukalak
Interview between Chris Awa and Madeline Ivalu
Interview between Sarah Beaulne and Jackusie Ittukalak
Discussion between Sarah Beaulne and Thamusi Sivuarapik
Discussion between Atuat Akkirtik, costume designer, actress from Igloolik and Marie-Helene Cousineau
Discussion between Sarah Beaulne and Lisa Louie Ittukalak and Alasi Sivuarapik