Our Journey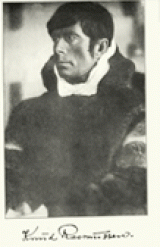 Channels:

The Journals of Knud Rasmussen
From Shamanism to Christianity in 1922
'Nobody will want to believe us, because our disaster is the disaster of the entire Civilized world.'- Ignacy Schipper writing from Majdanek

'Animals, whom we have made our slaves, we do not like to consider our equals' - Charles Darwin
* * *
In 2002 Atanarjuat the Fast Runner brought Inuit reality to worldwide audiences with an award-winning story of love, murder, revenge and forgiveness from the ancient past. Called 'the first national cinema of the 21st century,' the film inspired audiences with a new look at the human condition from the Inuit point of view. But a thousand years after Atanarjuat out-ran his enemies, where did the Fast Runner finally end up?
In The Journals of Knud Rasmussen the makers of Fast Runner dramatize conversion to Christianity in 1922 of Avva, Igloolik's last shaman and his family, again from the Inuit point of view. Times have changed, and the Fast Runner has ended up in church.
For people whose survival rests on a delicate balance among human, animal and spirit souls, the loss of belief is an unnerving story. Revealing in its own narrative language the depth of the belief system lost, and its catastrophic impact on the rich and sensual family life that depended on it, The Journals exposes the cosmic disparity between Aboriginal and European cultural memories of a shared past. Like Fast Runner, The Journals takes another look at the human condition, but closer to unresolved conflicts of our own time.
In today's world, the dual audience of Aboriginal and non-Native viewers stare across a sullen divide of centuries of demeaning stereotypes. In this film Native people think, a cultural identity rarely depicted in popular media. Seeing Inuit undeniably as sentient beings, The Journals sets in motion a non-violent opportunity for recognition and healing between two different audiences surprised or even unsettled at finding common ground.
Opening the Toronto International Film Festival in the language and voice of the colonized transforms The Journals into an historic national honor: the first film invited to carry forward the rich belief system of Aboriginal people to an Opening Night audience of Canada's most powerful and privileged. The duality of this event continues through the film's 35mm cinema release by using the new potential of digital HD to bring The Journals at the same time to audiences in remote northern Aboriginal communities.