About this channel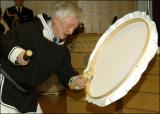 A profound discussion about Inuktitut as a changing language.
Media on this channel

Need Inuit on Truth and Reconciliation Commission
2328 Jefferson StreetOttawa, OntarioK1H 7A3                                                            Mr. Bob WeberCanadian Press Edmonton, AlbertaDear Mr. Weber:Member of...


Inuit naming
Inuit naming is a very important aspect of Inuit culture. Inuit sometimes chose a name for their newborn babies, sometimes prior to birth. Inuit name their children after...


Learning the Inuit language the Qablunaaq Way
Translating these Testimonies of Inuit Survivors of Turquetil Hall/Sir Joseph Bernier Federal Day School, has allowed me to revisit some of the Inuit words that have been...