Learning Materials
Atanarjuat the fast runner
For countless generations, Igloolik elders have kept the legend of Atanarjuat alive to teach young Inuit the danger of setting personal desire above the needs of the group.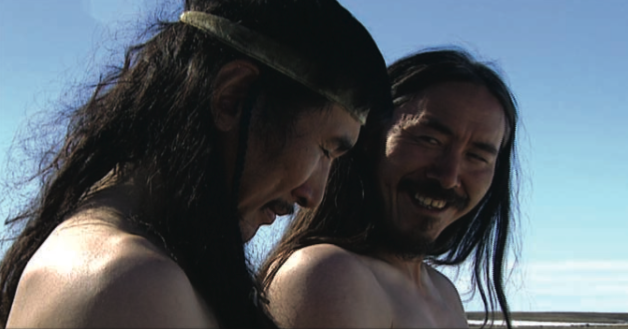 Igloolik is a community of 1200 people located on a small island in the north Baffin region of the Canadian Arctic with archeological evidence of 4000 years of continuous habitation. Throughout these millennia, with no written language, untold numbers of nomadic Inuit renewed their culture and traditional knowledge for every generation entirely through storytelling. The film Atanarjuat The Fast Runner is part of this continuous stream of oral history carried forward into the new millennium through a marriage of Inuit storytelling skills and new technology. The tale of making the film is itself made up of many stories...
Atanarjuat is Canada's first feature-length fiction film written, produced, directed, and acted by Inuit. An exciting action thriller set in ancient Igloolik, the film unfolds as a life-threatening struggle between powerful natural and supernatural characters. Atanarjuat gives international audiences a more authentic view of Inuit culture and oral tradition than ever before, from the inside and through Inuit eyes.
Navigate through the legend using the map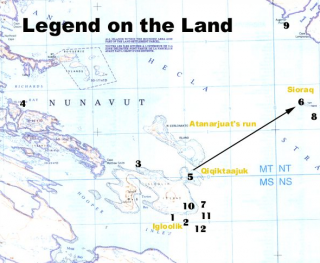 Igloolik, "place of houses," in the eastern arctic wilderness at the dawn of the first millenium. Evil in the form of a mysterious, unknown shaman enters a small community of nomadic Inuit and upsets its balance and spirit of cooperation. The stranger leaves behind a lingering curse of bitterness and discord: after the camp leader Kumaglak is murdered, the new leader Sauri drives his old rival Tulimaq down through mistreatment and ridicule.
Two Rival Families
Genealogy

Atanarjuat's Family Tree
Genealogy

Oki's Family Tree
Genealogy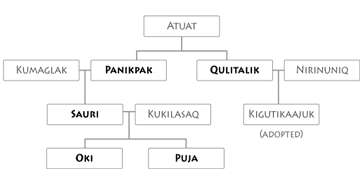 Click on the names of the characters marked in BOLD to read more about that character.
Inuit actors from Igloolik
The cast were a mix of experienced and newly-initiated actors. Natar Ungalaaq as Atanarjuat, and Paul and Mary Qulitalik as Qulitaliq and Nuriuniq, for example, have previous credits in Claude Masson's Kabloonak, CBC's Trial at Fortitude Bay and Turner Broadcasting's Glory and Honor.
Photo albums
"J'ai suivi de très près l'extraordinaire aventure de ce premier film inuit qui a été primé à Cannes l'année dernière: Atanarjuat, la légende de l'homme rapide. La civilization inuit est une civilization passionante et ce film magnifique permet d'en entrevoir certains aspects."
Jacques Chirac, President of the Republic of France
"The Fast Runner" is not merely an interesting document from a far-off place; it is a masterpiece. Mr. Kunuk's film, which won the Caméra d'Or for best first feature at last year's Cannes International Film Festival, is much more than an ethnographic curiosity. It is, by any standard, an extraordinary film, a work of narrative sweep and visual beauty that honors the history of the art form even as it extends its perspective.
Igloolik Isuma Productions Inc.
Address:POBox 223, Igloolik,
Nunavut, CANADA X0A 0L0
Igloolik tel:+1.867.934.8809
Igloolik fax:+1.867.934.8700
Montréal tel:+1.514.486.0707
Montréal fax:+1.514.486.9851
Email:info@isuma.ca
Website:www.isuma.ca
Co-Producer:National Film Board of Canada
English title: The Fast Runner
Original title: Atanarjuat
Language: Inuktitut
Other languages of subtitles: English/French
Running time: 172 minutes
Theme: Drama based on historical legend
Category/format: Independent fiction feature
Website: www.atanarjuat.com
Production date: December 11, 2001
Interviewed by Nancy Wachowich, currently professor at the University of Aberdeen, Scotland. Sadly, Paul Apak died in December 1998, before the film was completed.
This interview was recorded on the afternoon of 16 April, 1997 at the Isuma building in Igloolik, when I was conducting fieldwork for my PhD in Cultural Anthropology at the University of British Columbia. My research was concerned with the Inuit effort to preserve traditions. Apak and I had just spent almost an hour and a half that morning having coffee and discussing his twenty-year career as a videographer in Igloolik. Though my reason for dropping by was to arrange an afternoon taped interview, we began speaking candidly about Apak's use of film to address cultural agendas in Igloolik. Among other things, he reflected on the capacity of this medium to regenerate Inuit land skills, language and cultural traditions.