About Arnait Video Production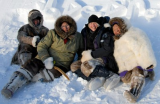 The goal of Arnait Video Productions (Women's Video Workshop of Igloolik) is to value the voices of Inuit women in debates of interest to all Canadians. How does one experience the dawning of the third millennium in a small Inuit community that is in the midst of political and social change?
Since its beginnings in 1991, Arnait Video Productions (AVP) has traced a trajectory revealing the originality of its producers, the context of their work and lives, as well as their strong desire to express cultural values unique in Canada.
Working in difficult social conditions – through community and family problems as well as precarious financial situations –, the sheer endurance required on the part of the women in Arnait to produce these video documents testifies to the importance of the project in their lives.
The first works of our group revealed the importance for the women of Igloolik to share oral traditions. Whether in the form of a series of interviews (Women/Health/Body and Itivimiut) or as short works linking songs to words and reenactment of traditional activities (Qulliq, Attagutaaluk Starvation, Piujuq and Angutautaq), the videos that we produce celebrate the specificity of the culture of women in Igloolik.
While the video works situate themselves in the specificity of their production, they are universal in their motivation for expression. It is this combination that has secured a large public located across the Arctic, in South America, Europe, the United States, and Canada.
Since 2000, Arnait Video Productions has produced feature documentaries such as Anaana (Mother), Unakuluk (Dear Little One), and the short fiction film Ningiura (Grandmother). Before Tomorrow, based on Danish author Jorn Riel's novel, is the first feature-length fiction film produced by Arnait Video Productions scheduled for release in 2008.