About this channel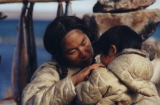 Exploring Inuit Culture ONLINE is a multi-media learning material designed for grades 4-6, to teach students about the Inuit, the native people of the Canadian Arctic, and Nunavut, the newest territory in Canada established in 1999. The Lesson Plans are available in PDF format and can be downloaded. The accompanying educational documentaries can be watched directly from the website and projected at the classrooms in Full Screen.
-----------------------
Exploring Inuit Culture ONLINE authorizes the use of this channel collection for educational purposes.
Teachers can use, modify reproduce and distribute without having to request additional permission for non-commercial purposes the educational resources found on this channel including teaching strategies, ideas for the classroom, activities and games.
Educational institutions, teachers and students can reproduce, communicate by telecommunication, perform, exhibit, crop, reverse, translate, archive and use for non-commercial educational purposes, any content, which can be found in this channel.
LESS INFO