Acerca de este canal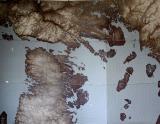 Baffinland Witness is a collection of my impressions and experiences surrounding Canada's largest-ever resource development proposal—Baffinland Iron Mines' Mary River project—in the context of mining in general in Nunavut and Canada, both present and historic. While the project moves through the final stages of its review process before the Nunavut Impact Review Board, I will be talking to Inuit and non-Inuit throughout the region and posting their insights here. I hope my updates will outline, in a few vivid details, what it's like to live in a region so important to Canada's future, but which so few Canadians ever see.
I am grateful to IsumaTV's Digital Indigenous Democracy project for the funding to produce this blog. Though IsumaTV graciously provided travel and accommodations support, this blog itself is voluntary. DID created the opportunity for me to observe the review process and connect what I see with the experiences of other indigenous communities, but I am not paid for my observations. I have no editor or publisher and my opinions are entirely my own. I hope you find them helpful.
Ashleigh Gaul
You can find more of my writing at ashleighgaul.tumblr.com
MENOS