Acerca de este canal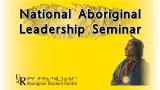 The National Aboriginal Leadership Seminar is a one-day event in which Aboriginal leaders share their insight, knowledge and challenges to the student audience. Speakers aim to address topics such as the future challenges of today's youth and how Aboriginal leadership needs to develop to be successful in the future.
This seminar explores the role of Aboriginal leadership through the lens of the various levels of government and civil society. What steps are being made in improving Aboriginal leadership? How has Aboriginal leadership evolved through history? Are there difficulties facing leaders that try to make their mark on the national and provincial level? This seminar will examine some of the unique histories and problems facing Aboriginal Leadership.
The National Aboriginal Leadership Seminar is held biennially, meaning every 2 years, at the University of Regina and is coordinated by the Aboriginal Student Centre. The inaugural event was held on June 5, 2008 in the Education Auditorium. The second, and most recent, was held on April 27, 2010 in the University Theatre. Planning is currently underway with a tentative date set for May 2012.
MENOS