Learning Materials
The Journals of Knud Rasmussen
After completing "Atanarjuat The Fast Runner," set in the mythological past in a community whose balance of life had not changed for 4,000 years, Zacharias Kunuk and Norman Cohn chose to depict a series of events that took place in 1922, when Shamanism was replaced by Christianity – and the balance of life was changed forever.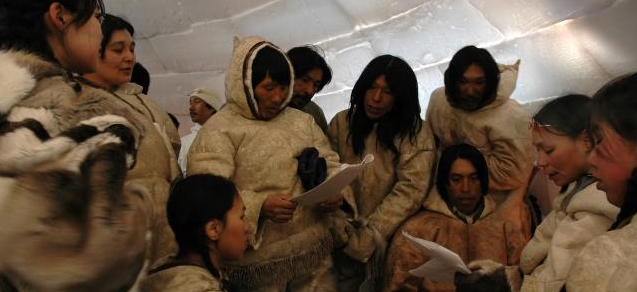 Kunuk was inspired to make the film for "a first audience that is Inuit: elders who are still alive and young people looking for a future beyond boredom, unemployment and suicide. It tries to answer two questions that haunted me my whole life: Who were we? And what happened to us?"
Cohn adds "If the Inuit of "The Fast Runner" ended up in church, then the Inuit depicted in the "The Journals of Knud Rasmussen" have ended up in today's headlines, all too often living desperate lives on the margins of society."
High-definition Inuit Storytelling
In an oral culture that never anchored its history with pen and paper, digital technology today affords new opportunities for storytellers. High-definition cameras are particularly well suited to the ancient art and values of Inuit storytelling, which invites viewers directly into a world of sentient beings – with no introductions – welcome to watch, listen and think for themselves.
Zacharias Kunuk Speaks with Joysanne Sidimus
We have been Christianized now, and are trying to be educated in the world system. But then when somebody dies, there are rumours that shamanism appears. That seems to be connected with death. Why bring that back? That's what goes through my head. What is the Inuit view of life? Shamanism? What knowledge do they carry? In Inuit mythology, there is the sea goddess, Sedna, and there is a sky spirit, another woman, and there's a land spirit. There are many spirits. Doing my research, I have run into a book that records hundreds of spirits. They're all over the place. We are so blind that we don't see them. We ignore them and we don't know them. READ MORE OF THIS ARTICLE
Mapping Our Way Through History: Reflections on Knud Rasmussen's Journals | by Lee Maracle
I don't know the men who made this film, but I can imagine them. I see them as men who come into the world loaded with their own cultural capital, free of the sense of victimization that cripples our communities into a crazy kind of paralysis. I am awed and inspired by the filmmakers who can take a very European document like Rasmussen's journals and create a specifically Inuit film from them that also serves every Indigenous community as it does. I am further awed and inspired that it shows non-Indigenous people exactly how the madness in our world came about. The next time someone asks, 'What happened, why are Aboriginal people so violent?' I will simply say, 'Watch The Journals of Knud Rasmussen." READ MORE OF THIS ARTICLE
Meet the Characters
The real historical figures from the 1920s upon whom the characters of the film are based
My name is Knud Johan Victor Rasmussen, and I was born in Jakobshavn, Greenland on June 7, 1879. I am of both Inuit and Danish descent and speak fluent Inuktitut. I am an experienced arctic traveler whose life's work has been dedicated to the study of the Eskimos. Over the years, my companions and I have visited as many tribes as possible and collected some 20,000 artifacts. I have been fortunate to live among Eskimo friends who have shared their songs and stories and given me leave to ask many questions, allowing me to compile thousands of pages of notes and sketches. In 1910, my companion Peter Freuchen and I established the Thule Trade Station in Thule, Greenland. From this station, I led five expeditions from 1920 to 1924, exploring 29,000 miles of arctic North America, and became the first man to travel from the Atlantic Ocean to the Pacific Ocean by sledge. It was during the Great Sledge Journey that I came to meet the great angakkuq Aua and his wife Orulu. We were excellent friends, and we would often stretch at ease after a hearty meal and converse. These were the times to which I most looked forward.
Live from the Set (2005)
Click on each photo and learn what it is like to shoot an Inuit film in the Arctic
Creative Team
Click on each photo and learn who they are, what they do, and how they do it