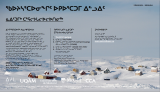 LOCALIZACIÓN:
Canada
Contenidos subidos por
NorthernHousing

Crise du Logement Dans le Grand Nord
Submitted to the 2008 InterUniversity Charrette by 3 students at UQAM's Ecole de design. www.cca.qc.ca/charrette/2008 Crise du Logement dans le grand nord Maxime Dussault (UQAM), Gabrielle...


Iqaluit Perspectives on Northern Housing
This film was made by trainees at the Inuit Broadcasting Corporation. They are - Charlie Ningeok, Allison Ford, Wendy Tiglik, Leena Nowdluk. Instructor - Mike Kerr. Filmmaker: IBC Trainees (Charlie...


Northern Housing Design Competition
The Project In the fall of 2008, Architecture and Design students from across Quebec and Ontario worked on designs related to housing in the North. They were looking for guidance and insight from...