Projects
Synopsis: Anna, a Montréal woman and her 14-year-old son Tomas travel to the High Arctic so he can meet his late father's Inuit family for the first time. Tomas is curious about his father's culture, but his father is no longer around to show him the way. For his mother and Inuit family, the joy of homecoming is mixed with memories of a brief and painful chapter in their shared history. Over the course of two weeks that seem to blend into one long day under the midnight sun, Anna and Thomas strive to rebuild the family they could no longer ignore.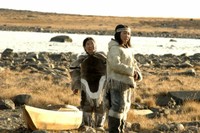 Synopsis: In 1840, two isolated Inuit families reunite in celebration after many years of separation. These tribes have never met any white people, although rumours circulate about them. When Ninioq, an old woman, her best friend, Kuutujuuk, and her grandson, Maniq leave camp to dry fish on a remote island a strange illness attacks the camp. After the death of Kuutujuuk, Ninioq and her grandson are left alone in the world and most find the mains and the will to survive.
Unakuluk (Dear Little One) 2005
Synopsis: Rooted in tradition, adoption is a reality that all Inuit families have experienced. In Inuit culture, adopting a child from a relative, friend or acquaintance is a common practice. Marie-Hélène Cousineau, the adoptive mother of Alexandre Apak, lived in Igloolik, a small island southwest of Baffin Island in the Arctic, for many years.
Ikuma, carnet de tournage
Arnait Video Productions, in collaboration with Mémoires d'Encrier, will publish Ikuma, carnet de tournage. Texts and illustrations are inspired by the collaborative experience of shooting Before Tomorrow in Puvirnituq with a team from Igloolik, Puvirnituq and Montreal. The book will be released at the same time as the film.
Women-Health-Body

A series of a dozen unedited interviews with traditional midwives of Igloolik.

Itivimiut

A series of interviews conducted in Igloolik and Mittimatalik.